Being a parent and taking care of a toddler is challenging so, one of the greatest joys for a parent is to see his/her child grow, develop, and gain a sense of freedom and independence. While your little one is learning to walk, stand up and balance, toys can provide endless joy to him. Ride-on toys for toddlers provide an opportunity and a great platform to develop fine motor and gross skills. Not only do they polish a toddler's motor skills but also refines his balance and hand-leg-eye coordination.
Best Ride-On Toys For Toddlers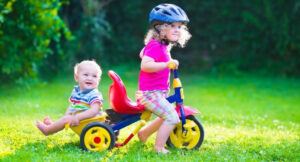 Toys take many forms. While Push ride-on toys for toddlers require constant pushing from the caretakers or the parents, pedal-powered toys are for those who want more engagement and are ready to master the art of balance.
Evidently, thousands of toys get manufactured every year. However, only a few ride-on toys are appropriate for toddlers. For example, many motorized ride-on toys for toddlers have been proven dangerous to play with, whereas, push ride-on toys are considered tiresome by most parents.
Therefore, we have carefully picked up some of the best ride-on toys for toddlers that provide fun and comfortability to the parents while developing their children's gross and fine motor skills:
The Original Plasmacar By Plasmart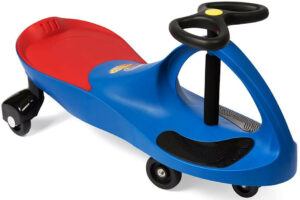 The first edition ride-on toy by Plasmart tops our list because of its creative and unique design, in addition to thousands of positive reviews by the parents who have bought it for their toddlers. Surprisingly, this toy requires no pedals or batteries to push it along. Apart from a little turning and twisting, the children have to groove their bodies a bit to have them moving.
Plasmart plasmacar comes in a wide array of vibrant color combos. While blue and red is the best color for a male toddler, red and black is perfect for your little girl. Apart from using it outdoors, you can use it as an indoor toy as it works well on most smooth surfaces. However, it is not recommended you use it on hardwood flooring.
Despite its minimal functionality, we love how families can use it for years. Specially designed for toddlers aged 2 and up, it can hold a weight of up to 220 pounds.
Therefore, it is great for a day out and is very easy to put together. Moreover, toddlers cannot get enough of this ride-on toy.
Radio Flyer Scoot-About Sport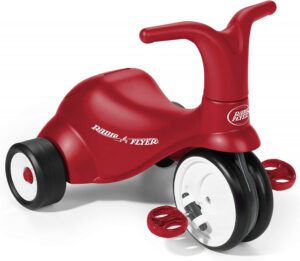 If your toddler is ready for a bike, then there is no greater fit for him than the Radio Flyer Scoot-About bike. Your toddler's safety while riding this bike is ensured because the toy comes with 4 wide-set wheels for utmost balance and support.
A caregiver must bend and push a bike a little for the toddler to enjoy his new ride but alternatively, he can use his little legs to push against the ground and move freely, wherever he wants to go. Apart from a sturdy design and bright color combination, the wide yet comfortable seat lifts so that your toddler can store his stuffed animals, goodies, snacks, and even more.
Peg Perego John Deere Ground Force Tractor With Trailer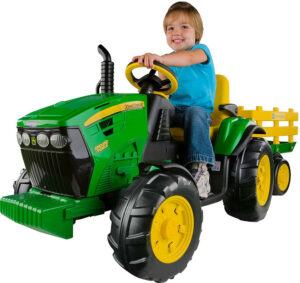 So, your toddler enjoyed his little trip to the countryside. Why not get him a ride-on toy inspired by the way things work around the countryside? Within no time, your toddler will be plowing up and having a great time on the ride-on tractor by Peg Perego. Despite having a big size, it is perfect for your little one.
Do not worry about changing the battery again and again, as your child's green ride is powered by a long-lasting rechargeable battery. Even so, your kid can also operate it using his little legs because the design includes a wide pair of pedals.
Indeed, you would have a hard time carrying it around on a trip but your kid will have a great time riding this outside everywhere as the toy works on pavement, gravel, grass, and even dirt. Talk about a sweet ride and that also features a working FM radio.
Hape Scoot Around Ride-On Wood Bike
Want your toddler to enjoy an old-fashioned wooden ride-on toy while looking all cool in front of the neighbors' kids? Say no more, we have got the perfect solution for your little one. The Hape Scoot Around Bike is the epitome of what a ride from pre-historic time looks like. Despite the body made of wood, the wheels are fully rubber-coated: easy for your little one to push off the ground and get the bike going.
Although it is recommended for a 1-year-old kid, you can use it until your child crosses the age of 3. As revealed by the company itself, it is one of the best starter ride-on toys for toddlers.
Little Tikes Princess Horse and Carriage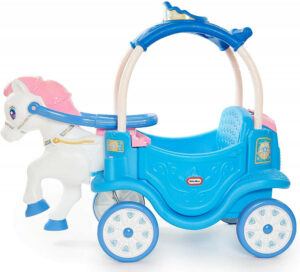 Clearly, most girls have a doll collection but have you ever thought about getting her a ride-on toy that looks exactly like a princess horse carriage? Let your child experience the way Cinderella felt when she first rode the magical carriage. The princess ride can be manually controlled by toddlers, whereas adults can push it from behind.
What is a carriage without a horse tied to its front? This carriage has a horse that seamlessly glides and even turns when the carriage starts moving. Furthermore, the horse even makes a realistic yet satisfying clip-clop sound.
Kids 12V 2-Seater Licensed Land Rover Ride-On Toy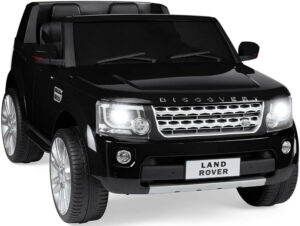 Perhaps, all a parent wants, is a statement-making and rich-looking ride-on toy for his toddler. If that is the case, let your kid ride in style with this battery-powered range rover-styled ride-on toy. Toddlers age 3 and up can drive their statement-looking car on their own. However, you can utilize the remote control to help your child out.
Unfortunately, the maximum speed is only 3.7 miles per hour, very unlike the real range rover. To ensure a smooth ride, the 4-wheel suspension works every step of the way.
Use your mobile or your kid's tablet to play music. Just connect it to the dashboard and watch your little kid start dancing to the beat while riding his statement-looking ride-on toy. For a more realistic touch, the manufacturers have installed the sound of an engine starting.
Radio Flyer 4-in-1 Stroll 'N Trike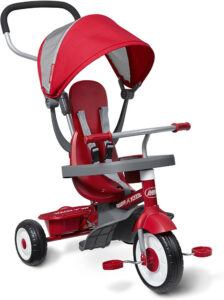 Part tricycle, part stroller, this toy grows with your child while giving him a chance to strike and stroll. Looking at the size of it, this stroller plus tricycle can even withhold the weight of a 5-year-old kid, however, it is recommended for toddlers ages 1 to 2 years old. Mom and dad can keep it as a stroller unless the toddlers want some action and long to ride a tricycle. With some useful features such as a tray, a cup holder, and a storage compartment. Moreover, it can hold toddlers up to 49 pounds.
Lascoota 2-in-1 Kick Scooter With Removable Seat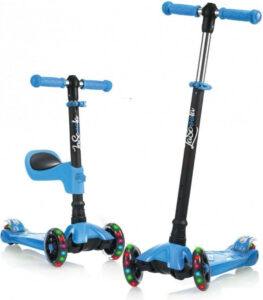 Want a scooter with super staying power? Lascoota is a perfect ride-on toy for toddlers starting at about age 24 months. Initially, the toy works as a ride-on toy but as your child grows older, the seat comes off. In spite of a ride-on toy, it works as a scooter.
Regardless of the modes, all 3 wheels light up and provide a flashy yet fun riding experience to your little one.
Costzon Ride-On Motorcycle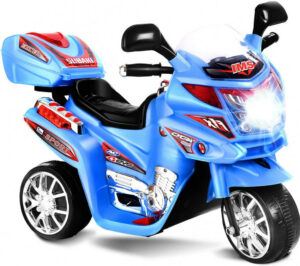 Gear up your kid for a heavy ride. Children as young as 2 to 3 years old can enjoy a rechargeable battery-powered motorcycle ride-on toy. A single charge of the battery works for 40 minutes or less, depending on the function time. While the 3 wheels provide stability, the foot pedals make the hard task of take-off easy for the toddlers.
Moreover, it features a working headlight and a working horn so that your kid can signal everybody to move out of the way.
AppleRound Blue Horse Hopper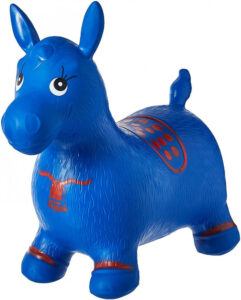 In spite of the wheel here, we have legs here! This jumping horse ride-on toy lets your kid bounce about everywhere they want. In addition to the horse, the toy package comes with a pump, so you can inflate the horse easily. However, toddlers cannot pump the horse on their own, so, they need an adult's supervision and assistance.
Designed specifically for 2- to 3-year-old kids, parents call it a great ride-on toy for a sweating exercise session. Apart from its ability to let kids bounce for hours, it is a traditional yet fun alternative to modern, expensive motorized ride-on toys.
Step 2 Whisper Ride II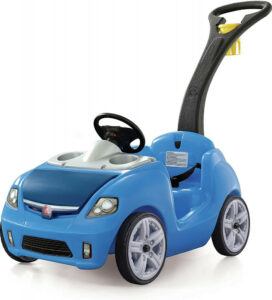 Your kid might act like he is all grown up, but, he needs a push from time to time. Whisper step 2 is a great option if your toddler likes you to be involved in his games. The car features a functioning horn and a steering wheel. In addition to that, it can also be used as a traditional stroller because of the long handle at the back for the parents to push the cart forward.
Like every car, this ride-on toy comes with a wide seat belt to keep your kid securely and in place while riding. Whisper step 2 can hold up to 50 months and is recommended for kids 18 months to 4 years.
YBIKE Ride-On Toy And Walking Buddy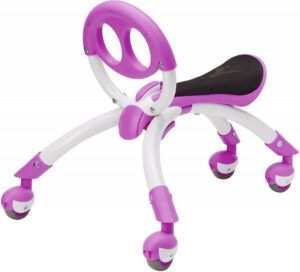 Every good toy is full of possibilities and hidden fun for your little one. If you are looking for an interesting-looking yet functioning ride-on toy, take a look at YBIKE's walking buddy + ride-on toy. In spite of developing backache from teaching your kid how to walk, you can use this toy as a walking buddy. Let your kid explore walking. Furthermore, it can turn into a ride-on toy as your child grows.
Because of its interesting and innovative design, it has won many awards. The long yet wide base assures that the toy does not fall over the kid even if he trips over it. Apart from refining your little one's motor skills, the toy also enhances his cognitive skills.
Afraid of scuffing your floor? Do not be as the wheels are covered with non-marking rubber. As long as there is a smooth surface, your kid will not have any problem riding this beauty.
Prince Lionheart Wheely Bug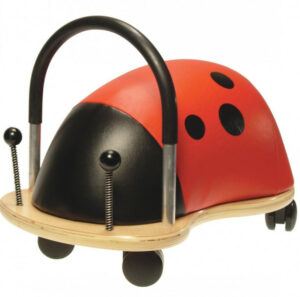 Ladybug-looking ride-on toy looks as cute as your kid. The whole body of the ladybug ride-on toy is cushioned while the horseshoe-styled handle is made of metal. Let your kid hand on to the sturdy yet partially cushioned handlebar while they scoot backward, forward, and even around in circles.
From what we have gathered, this ride-on toy comes in two sizes: small and large. Small size is best for toddlers ages 18 to 36 months. On the other hand, a large-sized ladybug wheely toy is suitable for kids age 3 and up.
Manufacturers were considerate enough to release different versions featuring other animals, for instance, a pig, a bunny, and even a hedgehog.
Little Tikes Rocking Horse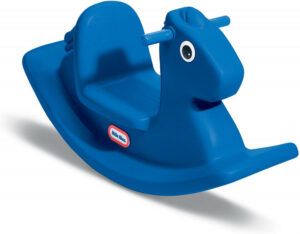 Want a ride-on toy that does not move? You got it. Some of the best ride-on toys do not need to move. Having easy-to-grip handles and made of sturdy plastic, the blue rocking horse is perfect for toddlers to swing while using their energy at the right place.
Toddlers can ride it right out of the box because it comes fully assembled.
Mega Blocks Ride-On Caterpillar With Excavator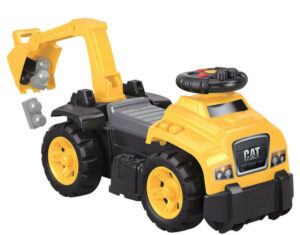 Unleash the inner builder in your kid with this caterpillar ride-on toy with an excavator. One is sure to go wild with a toy as such as it includes a shovel as well as an excavator. Although the set comes with 10 big blocks to scoop up, your kid can pretend other toys like blocks and move them to and for.
Moreover, there is a huge compartment under the seat to store your kid's belongings. Parents recommend it, saying it is perfect for indoor and outdoor use.
Conclusion
Ride-on toy shopping can be a pain in the neck; however, some tricks can help you shop for the right toy for your kid. For instance, be vigilant in checking the specifications, safety validations while considering your kid's abilities. Make sure your kid is comfortable to use a ride-on toy, be it pedal-powered or motorized.
If you are looking for more Ride On Toys For Toddlers, let us know in the comment section below and we will try our best to help you!
Please follow and like us: