Even though video games have become very well-known over the past few years, board games have not lost their charm and are great for both kids and parents. Not only do kids' board games promote family bonding but also provide a chance for people to put down their mobile phones and get to know each other a little bit more. By playing kids board games with your children, you can teach them life-long skills, may it be color recognition, logical reasoning, hand-eye coordination, or spotting the difference in less than a minute!
Why Are Board Games Important For Kids?
Dr. Nicholas Kardaras has studied the use of screens by children. He studies the disadvantages, advantages, and other effects on kids caused by the overuse of mobile phones. He says that board games are a great alternative to video games/YouTube videos.
In his study, he explains how the shiny screens of mobile phones are becoming an addition to kids and hijacking their minds. However, kids' board games are a good option to break the trance.
In the modern era, the overuse of screens has increased physical and clinical disorders in the kids of today. Some children even have diabetes and early age obesity.
But don't you worry! We have compiled all the famous board games suitable for the kids as well as the whole family. Even though many kids still play board games and enjoy quality time, some parents need guidance to bring the best kids board games for their children.
Roll And play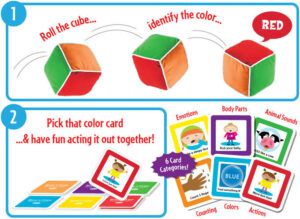 Recommended age: 18 months to 3 years
Roll and play is one of the best kids board games to introduce your kid to taking turns, following rules, and maintaining discipline and patience throughout the activity. The best part of the game is that there are no winners or losers. This serves as a motivation for every kid playing the board game.
The only goal in this board game is to move, move, and move and get silly with the rules! All the kid has to do is throw the plush dice and call out the color. After that, the toddler has to choose a color-matching card and perform the activity that comes with it.
Some activities included in the game are:
Bark like a dog
Pick something red
Give a hug to your mother
Sing a song for your father
Eat an apple
Even though the task seems a bit silly for elders, they support a range of skills and learning areas appropriate for toddlers.
Do not let age recommendation stop your elder kids from playing this board game. Many parents with 4 to 6-year-old kids have reported enjoying this board game.
Monkey Around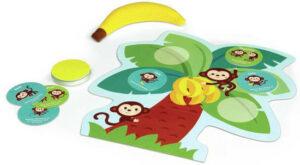 Recommended age: 2+ years
We had to include Peaceable Kingdom's Monkey Around in our list of best kids board games. It is a great game if you have a toddler who is not ready to concentrate fully on a board game yet. If your kid is into playing silly, then this is the board game you should invest in.
All your child has to do is pick a card. After that, you read out the card to him and ask him to do a movement, as written on the card. These tasks are way simple, such as sitting on a beanbag banana, balancing a book, or hopping backward.
The cards also have do-together tasks if you have twins or kids in the same age bracket. The do-together tasks include crawling under a bridge made by pillows, clapping together, or giving a high-five.
Once your kid completes the task on the card, you place it on the board. The kid with the highest number of cards on the board wins!
The immediate completion of task motivates the toddlers to complete the tasks with full concentration and engagement.
This board game is best if you want to engage your 2-year-old kid in something productive. Parents love playing this board game with their kids. Be ready to giggle if a funny task comes up!
First Orchard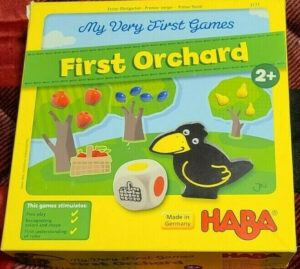 Recommended age: 2+ years
Parents love all the high-quality and fun games included in 'Haba's My Very First Game Series'. Among all the engaging games, First Orchard stands out. This cooperative and engaging game is highly suitable for 2-year old kids. The board game outline is quite simple for the parents and kids to understand.
Everyone playing the game works together and collects all the visible fruits from the orchard trees before an evil raven gets there.
By playing this board game, the toddlers do not only learn fundamental self-development skills such as counting and color matching but also practice to wait for their turns while others play. We observed a group of kids playing First Orchard. Each round takes about 5 to 10 minutes to complete. What we observed was that all the kids stayed engaged and attentive for several rounds. While playing this game, children love to play with wooden fruits and a cute picnic basket.
If your kid does not show interest in one of the best kids board games of the decade, do not worry as they get double toys with the game too!
Preschool Lotto Game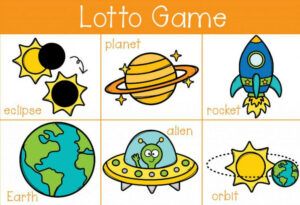 Recommended age: 3+ players
It is our all-time favorite memory-meets-bingo game. It is a beautifully illustrated kids' board game that has all the high-quality and unique touches that we know of and love from Eeboo. By opening the board game for the first time, you will see a lot of colors, whimsy, and sturdy construction.
More than 6 players can play in this board game. Each player has to pick up a lotto card. As per the instructions, each card has its transportation, food, animals, and theme. Kids then again take a turn in picking up a tile.
If one of the pictures on the lotto card matches the tile they have picked up, they place it on the top. If the tile does not match any of the pictures, the card has to be put down on the board, in the middle of the playing area.
Other players have the option to pick it up but only if they remember where it is. If you have to win the game, you have to fill out the card first.
By playing this board game, the children learn two fundamental skills: memory development and matching. Therefore, it is a highly engaging game for toddlers of all ages. When the kids are not in the mood to follow the rules, they just pick the cards and match to the tiles- a great activity if you and your partner need a break from continuous parenting.
The Sneaky, Snacky Squirrel Game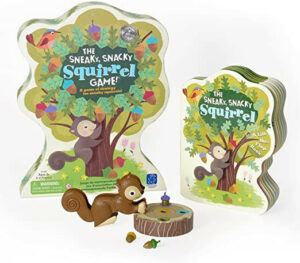 Recommended age: 3+ years
Children love to play this, again and again. Sneaky Snacky squirrel is an engaging, fun, and delightful board game where kids aim to win by filling their logs with corn. It is considered one of the best kids board games because there's no reading involves. It means that toddlers can play with their elder siblings unassisted. Kids of all age groups pick up the game very quickly and play each round delightfully.
How does my kid play this game? Well, it's quite simple. Your kid has to wait for your turn, spin the spinner, and land on a task to perform. After that, your kid has some choices: to steal corn, to pick corn of any color, to pick two corn, and to lose all their corn.
Your kid will use the Squirrel Squeezers to move their collected corns. By using the squirrel squeezers, the kids not only develops their motor skills but also hand-eye coordination. The Squirrel Squeezer is a fun element that keeps the kids engaged and attentive during the game.
We love how this board game incorporates the element of decision-making in the form of choosing corn, two corns or to steal. While many parents have complained that this game teaches stealing, this is not the case. It teaches them the real meaning of sportsmanship whenever their corn gets stolen, they lose a turn or lose all of their corns.
Try this game out with your kid and they will never get tired of saying, 'play again, please'.
Castle Logix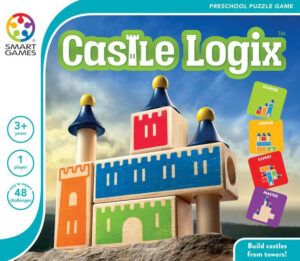 Recommended age: 3 to 8 years
This game, produced by Smart Games is a wooden 3D-logic puzzle that challenges a kid to arrange blocks in a particular manner so that they can match it with a given picture. If the kid succeeds with this task, he moves to construct a path in Camelot Jr.
Technically, Castle Logix and Camelot Jr are two different games but inter-connected. Both of these board games come with a comprehensive booklet that consists of more than 45 unsolved puzzles. With each turning of the page, the puzzles get harder and harder.
By playing this game, your child learns to solve a problem strategically and logically before moving on to the next puzzle. The most-advanced types of puzzles take plenty of time to solve.
However, if the kid fails to complete a puzzle, he won't stay up at night thinking about it. All the answers are provided at the back of the booklet. So, children can opt to look up the answers if they wish to.
While that still is an option, we have observed that most of the kids choose to flex their reasoning abilities and logical thinking skills. They want to win the game with their minds.
Each round of puzzles takes about 30 minutes of your kid's time. So, enjoy a hot cup of coffee in silence while your child gives it their all.
Three Little Piggies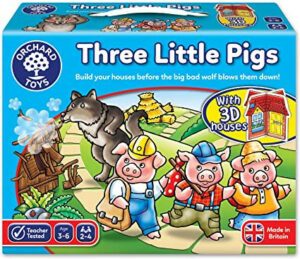 Recommended age: 3 to 6 years
Another one of the best kids board games by Smart Games is 3 Little Piggies. In this board game, the kids aim to set up or create storybook characters such as pigs and wolves. However, they have to use a different form each time.
The game plan challenges them to fit their storybook characters in 3 large house puzzles. The game has various levels but, our favorite level is the 'testers' where the houses must go over pigs, creating a safe place for them to stay and to protect them from wolves.
The game is quite thrilling and engaging for a 5 to 6-year-old kid.
Kanoodle And Kanoodle Jr.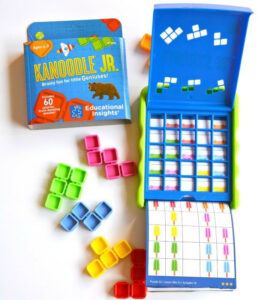 Recommended age: 7+ years
Recommended age of Kanoodle Jr: 4 to 7 years
Kanoodle
is a complete brain-teaser for all the genius and smart kids out there. This game is perfect when it comes to board games. In this board game, the kid has to select a puzzle card, slide it under the board, and aim to fit all the 6-colored board game pieces. However, the child has to be careful when it comes to the correspondence of the colors.
As the puzzle progresses, the clues get shorter and the task gets harder.
What we love about this board game is its compact packaging. All the board elements are packed in an easy hand-carrying case. It is great for your kid if they are at your elder child's soccer game or waiting at the dentist.
Kanoodle is great for parents as well. If you want to kill time while your kids play Kanoodle Jr, try to solve the advanced puzzles from Kanoodle and see if you can win.
Lazer Maze And Lazer Maze Jr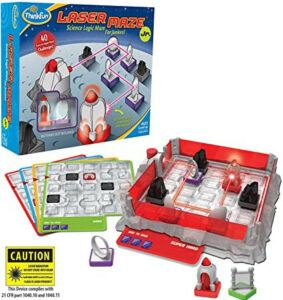 Recommended age: 8+ years
Recommended age for Lazer Maze Jr: 5+ years
ThinkFun
gave us one of the best logical board games for kids as well as adults. Lasers are cool, for adults as well as the kids. The only task for your kid is to reflect the laser beam using a series of movable mirrors to hit a target.
There are 60 difficulty levels and your child has to win each one to win the board game!
The Bottom Line
Parents can go to any length to reduce the screen time of toddlers. While there are many ways to do so, engaging them in board games is great, interactive, and beneficial.
Let me know in the comments section below how you liked this blog and what your opinions are about Kids Board Games, and what board games you play with your children.
Please follow and like us: