When children reach the age of 3, they start socializing, enjoying, observing, and learning about different colors, scenes, shapes, etc. Boys are eager to explore new things, just as much as girls, however, they are said to be more mischievous than girls. To make learning fun for them, you must introduce toys to the boys as soon as they start adapting to the surroundings and environment.
When shopping for toys for boys age 3, it is best to look out for toys that are fun and develop any fundamental or motor skills of the children. This will help them perform well in preschool.
In addition to that, you must evaluate the quality, functionality, variability, and safety of the toys for boys age 3 so that your children can enjoy and have fun without getting harmed.
3-year-olds today, are more social than elder kids. They know how to mingle, how to use certain things, how to react, and how to convince their parents of buying them toys. If your little boy has convinced you to buy a toy for him, surrender already and fulfill the little one's wish.
Here are some of the best fun toys for boys Age 3:
Fat Brain Toys Squigz Starter Pack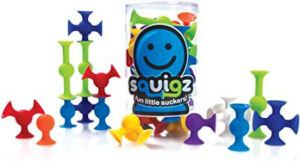 This toy, Squigz is specifically designed for 3-year-old boys who love to play with a lot of toys. It is one of the best toys for boys age 3. This toy is so fun to play with we guarantee you would find him playing with this toy even in elementary school.
The Squigz starter pack has 24 pieces in 8 different shapes. The shapes join and stick with each other. Upon dismantling the pieces, they make a loud pop noise that boys love. As the noise is so satisfying, many boys keep disconnecting the pieces for as long as they enjoy it.
The product testers regard it as a simple yet fun toy for boys age 3 because it's incredibly portable and safe to play with. The single starter pack can be a bath time toy, a dinner toy, and even a car toy. It is a fun way for kids to learn the motor skill of joining and dismantling pieces.
They are safe for 3-year-old boys as they are made from BPA- silicon-free, dishwasher-safe material. The starter pack has only 24 pieces but if your little boy is feeling a little creative, you can buy him the Squigz additional packs.
Prextex Cartoon R/C Police Car and Racecar Radio control toys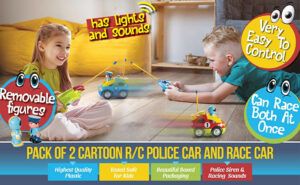 Speedy boys need speedy toys, just like the remote-control police and race car. The toy pack comes with 2 tiny vehicles, a race car, and a police car. Each car has 2 removable action figures. Both of the cars have flashy headlights and speakers to make real-like car noise. Your little boy will feel delightful after playing with this toy.
The cars in the pack are very sturdy as the material is plastic and the antennas of the cars are made of rubber. 3-year-old boys tend to throw toys a lot. However, these cars will handle the throws well.
Fisher-price Harley Davidson Tough Trike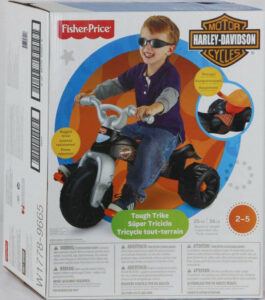 This toy is inspired by a famous bike producer, Harley Davidson. It is specially designed for 3 to 5-year-old boys who love to see the elder ride a bike or a car. This bike can withhold the weight of 55 pounds. So, if your boy is under this weight bracket, there's no reason not to invest in such a stylish toy.
The wide and sturdy wheelbase keeps the children safe from falling. Boys find it easy to get the bike rolling because of highly functional yet large pedals.
If your boy likes to keep his other toys around, there's also a hidden compartment, under the seats to keep his toys and routine snacks.
Magna Tiles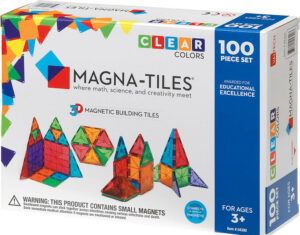 The cool, different-colored building blocks will leave your child happy and excited throughout the day. With these building blocks, they can build whatever comes to their minds, be it a 5-story building, a giraffe, or maybe even a shape of a bird? Let your child think of it!
The blocks magically stick together so there's no need for the kid to join. This toy does not only improve motor skills but STEM skills as well. It is a good way to introduce how mathematics works in real life.
The tiles are durable and safe for kids to play, however, they come with a hefty price. According to a random product tester, the toy is fun enough to hold the attention of at least 2 toddlers for 30 minutes.
Stomp Rocket, Jr. Glow
Stomp rocket for a 3-year-old boy? A big YES! He will be flying high when receiving this as a gift toy. This kit comes with four rockets and one stomp. The boys simply run, jump, and stomp on the soft pad to reach the sky as high as they possibly can.
By jumping, they release the rockets into the sky. The harder they jump, the higher the rocket will go. Technically, the rocket can go as high as 100 ft. However, it depends on their stomping power.
One cool feature of this toy is that the rockets glow in the dark. Don't be surprised if your child asks to be an astronomer after playing with this toy!
But adult supervision is needed whenever the child plays with this toy. There's an opportunity for your little one to fetch the rockets whenever they fall to the ground. So, it is fair to say that there's physical activity involved, which is great for kids.
Educational Insights Design and Drill Activity Center
Power up the learning activities for your little one with this toy set. Your boy will love to play with his own set of power tools such as a combination wrench, a screwdriver, a reversible power drill, 120 plastic colorful bolts, and two drill bits.
The kid has to work on the sturdy yet colorful activity board with holes in it. The bolts given in the set can be fit into any pattern to make pictures and other silly yet memorable creations.
They can use 1 of 20 activity cards to continue with the design they are building. They can either freestyle or make an additional change in their existing design.
The toy is very age-appropriate because it involves drilling the bolts into the board. However, it is not as safe as other toys because kids can choke on little bolt pieces.
Vtech KidiBeats Kids Drum set

If your kid enjoys music and dances to the beat every time you play a song, this is the toy for him. He will love banging on the drums all day as the set includes cymbal and 3 different types of drum pads to make amazing noises. Drumsticks are also included in the pack.
If your kid wants some extra action, you can turn on the disco lights for a concert-like environment. Not only can he bang the drums all day and dance to the beat but can also learn a thing or two about drumming.
You can select 4 modes: numbers, letters, follow along, and free play.
Shape Factory Fat Brain Toys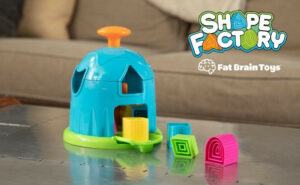 Learning basic colors and shapes will be fun for your boy with this toy. The toys include a set of large puzzles that have to be fit in appropriate empty pegs. Even though the pieces are large, they are appropriate for the tiny little hands of your lovely boy.
KidKraft Ride Around Train set and table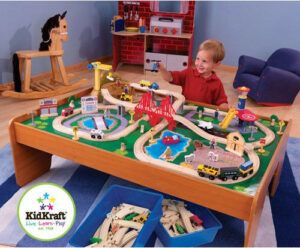 Get your kids on board for fun and entertainment with this big hit toy. You are on the right track when you invest in a toy as worthy as this. It is a train set with a table, including 100 tiny pieces. It gives an amazing array of adventures and includes everything that you'd usually find at the airport and train station: helipads, trees, trains, airports, people, street signs, patrol cars, and much more.
There's so much to do when it comes to playing with KidKraft Ride Around Train set. Let your kid decide if he wants to land at an airport or a train station.
The pieces are very flexible and can be built in multiple ways. This creates an opportunity for the kids to play on their terms. Your kid will spend countless evenings playing with this amazing toy.
Blockaroo Magnetic Foam Builders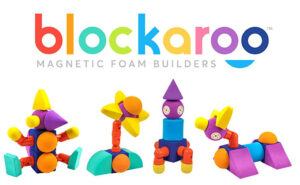 Every kid, whether a boy or a girl, needs a set of building blocks to test his/her imagination. Buying Blockaroo
for your little boy is a great option as it has unique features, not usually seen in other toys of the same category. The blocks are magnetic and made of form. Yes, you read it right, foam.
You won't have to hear the loud, crashing noises of plastic or wood building blocks. In addition to that, the figures are 360 degrees movable- allowing your kid to test his imagination to the fullest.
Reeves International Big Dig Sandbox Digger excavator crane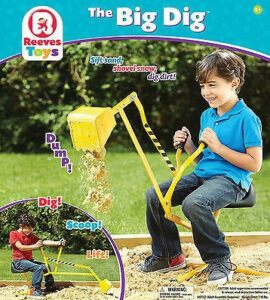 If you are looking for one of the coolest and trendiest toys for boys age 3, consider buying Reeves digger excavator crane. It is a winning toy as the excavator can be used to dig the sand anywhere, be it at the home's backyard, at the beach, or the park's sandbox.
As they will be busy digging, they will polish their motor skills and hand-eye coordination.
The toy is highly portable-so much that you will end up taking it to the nearest park.
Melissa and Doug Fire Chief Role Play costume set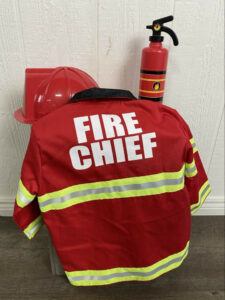 Does your little boy get excited at spotting a firefighter? If yes, nothing is better than buying him a firefighter role-play costume. By wearing this costume, your kid will straight-away turn into a hero, waiting to rescue the people stuck in the flames of fire.
This trendy costume set comes with an adjustable and sturdy helmet, a bright red jacket, a reusable name tag, and an official-looking firefighter badge.
In addition to that, the set includes all the accessories such as a bullhorn and a fire extinguisher for extra effects.
However, you'd have to insert 2 AA batteries in the bullhorn as they are not in the package.
Both of these accessories can fit right into your son's jacket. So, he has everything needs to save the day for town people.
Amazon the day the crayons quit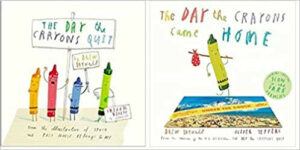 You can never go wrong by gifting a 3-year-old boy a color book with exclusive colored crayons. Besides fun drawing with your son, you would enjoy the weird but cute protest of the crayons on each page. It is available in a board book as well as a hardcover.
PJ Masks PJ Seeker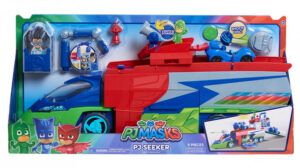 This toy is based on a popular show. The kid pretends to be a hero and chase made-up villains like Night ninja, Romeo, and Luna girl. The large trailer, that is, the toy, can fit 3 figures in the front cabin and a maximum of 4 toy vehicles in the detachable carrier.
However, the pack only includes cat boy and cat car. For the rest of the vehicles and figures, you have to purchase them separately. The trailer has some unique features such as sounds, flashing headlights, and even a torchlight for night adventures.
Munchkin Fishing Bath Toy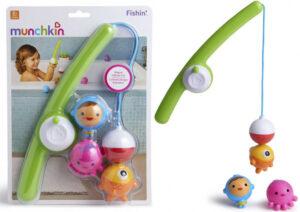 Not many kids enjoy bath time, especially boys, who need to get off all the dirt they have put on from playing in the backyard. Bath is a necessity for every human being but it does not have to be boring for your little boy!
This bath toy, Munchkin Fishing comes with 3 water-resistant yet adorable sea critters that float on the water's surface and a magnetic fishing road.
He can play this game over and over again until you clean him up. But do not leave him alone in the bathtub with this toy as he can choke on the critters.
Conclusion
Toys are a necessary part of a kid's life to learn, explore, and have fun. Therefore, parents must invest in good toys that do not only provide a fun time for the kids but enhance their motor and social skills as well.
Let me know in the comments section below how you liked this blog and what your opinion is about Best Fun Toys For Boys Age 3 below.
Please follow and like us: