2020 may not have been a good year for most of us, but it certainly is one of the greatest years to be a gamer. Because everyone is stuck home, even the World Health Organization recommends playing games to keep yourself distracted. Steam – the largest platform for games – reported in 2019 that there were more than 30,000 games by recognized developers on their platform. With so many games in the fray, it is sometimes difficult to find a good game. If you are looking at how to play free games online, do not fret.
To further break down this labyrinth of games available in the market, we have decided to cover all the free online games that you can play with your friends and random strangers on the internet. In other words, this is exclusively an MMO (Massively Multiplayer Online) games list.
The Best Browser Games
Browser games are the games that don't require any sort of installation on your computer system. These are usually the easiest games to play because you don't need to follow a lot of instructions. You just open your browser, launch the website, and start playing.
If you are looking to get into an online experience with multiple people, browser games may not be the most story-oriented or interactive – but they certainly get the job done effortlessly. Here is a list of a few browser games are very popular even by today's standards:
Slither.io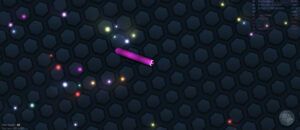 No time-killing browser game list can begin without the mention of the internet sensation: Agar.io's other lost brother: Slither.io. Slither.io basically revolves around the same concept: there is always a bigger fish in the tank. You eat food to grow bigger. You can eat other snakes to get even bigger. The game never ends and you can always retry if you get eaten. If you want a family-friendly version of "eat or be eaten", Slither.io is one of the most addicting ways to go.
How to play Slither.io
Slither.io may be a browser game, but it certainly does not run on any potato computer you will find. You should have at least a moderate 2nd generation i5 or a 3rd generation i3 with a graphics card that can at least run first-gen Crysis for this game. Head over to slither.io to start playing.
Realm of the Mad God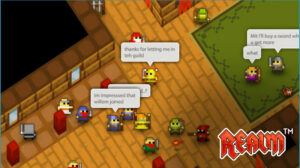 Realm of the Mad God is a very nice addition to the world of MMOs and consequently has garnered quite a reputation. Even though it is a browser-based game, its application version was able to gather a respectable 90% positive reviews on Steam. Realm of the Mad God is not your average MMO. It is an online shooter where players have to roam around in an open world, shooting up things on the way. Their new Exalt version is based on Unity and is around the concept of a bullet-hell shooter but that version is not available on the web.
How to play RotMG
The original Realm of the Mad Gods is based on Adobe Flash – something that may not be supported by your browser as it stands right now. Regardless, we were able to get it working on Firefox with a little tinkering. If you shift to the Exalt version of the game, you will need a considerably beefier PC. The developers recommend an RX 580 or GTX 1060 paired with an i7-9700 or a Ryzen 5 3600. The requirements will die down a little when the Exalt version is completely released – it is still in BETA.
AdventureQuest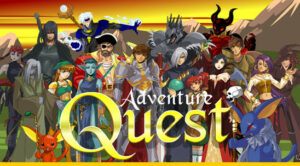 One of the oldest games on this list, and perhaps the oldest currently working MMORPG (Massively Multiplayer Online Role-Playing Game ) on the browser: AdventureQuest has had its fair share of different versions and upgrades over 18 years. AdventureQuest is still perfectly playable to this day, and with its simple graphics & colorful animations, and a focus on turn-based fights, is a good way to get some hours of your life shaved off. Think of it as an old school Final Fantasy, but with the Western twist of table-top adventures.
How to play AdvetureQuest
We understand that you may have been itching to play something on this how to play free games online list, and that is okay. Head over to battleon.com to start playing the original AdventureQuest version. If you would rather play the more modern version, you can always play AdventureQuest Worlds on aq.com. The game is playable on any potato you may have available – even the dual-core PCs from 10 years ago should be able to boot and play this game without any issues. You may need a browser that supports Adobe Flash though.
Pokémon TCG Online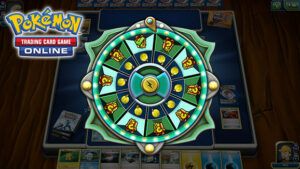 If you lived through the early 2000s, you must remember how all the craze was about Pokémon cards. In fact, Pokémon has been one of the most successful anime and video game series of all time. We all remember the crazy sensation that was Pokémon GO. Pokémon TCG Online is basically the virtual version of that table-top trading card game where one would battle one Pokémon card against another. The aim of Pokémon TCG Online is the same: "Gotta Ketchum all".
Pokémon TCG Online is still played by a great number of people monthly, and because of its friendly 1v1 battle option, you can fight off your best Pokémon cards against your friends to see who has the rarer ones. It is sad that they fixed that over-powered Charizard though.
How to play Pokémon TCG Online
To play Pokémon TCG Online, you will need to create an account on Pokemon.com. After you have successfully created an account, head over to the Pokémon TCG Online page to start playing. It may take a little while to load because the game has a lot of cards to download. Since the game supports cross-platform support, you can play through your phone or download it for PC as well.
Best free MMOs
Sometimes a simple browser game is not enough. As gamers, we understand that you will be needing to invest hundreds of hours to grind a respectable item in a game. To make those hundreds of hours memorable, simple sprites and unstable mechanics on a browser-based game are sometimes not enough. This is why we have compiled a list of the best free MMOs that you should try right now and with each of them, we have compiled a little system requirement guide to help you understand how to play such free games online.
Starborne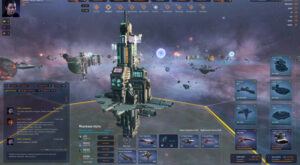 If you are sick and tired of all these magical RPGs that you find everywhere for the browser, Starborne may be the best option right now. Regarded as one of the best MMORTS (Massively Multiplayer Online Real-Time Strategy) games, Starborne revolves around building a massive empire all across the galaxy. There are countless planets to inhabit, ships to build and upgrade, and massive-scale fights to play in. If you have a few friends, you can team up with them and form an alliance – allowing you to get an edge in battle. Even though the game is in Open BETA, since the game is made by ex-EVE Online developers, the game has garnered the attention of hardcore EVE Online players all over the world.
Thousands of concurrent players each month means that even if you don't have many friends, you can always team up with a random stranger on the internet.
How to play Starborne
If you have been wondering how to play free games online – something related to science fiction but not pay-to-win like EVE Online, Starborne is a good option. Head over to starborne.com and download the installer. The game requires about 40 GB of space. Do note that you need a Core i5-6600k with a GTX 660 or HD 7850 to run the game on minimum requirements at 30 FPS. An RX 480/580 or GTX 1060 with a Core i5-7600k is recommended to play the game at high requirements with 60 FPS options.
Genshin Impact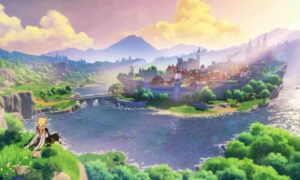 The game originally became popular because of its unique mechanics that were too similar to Breath of the Wild to not be called a BotW clone but has since gained a lot of attention for bringing world-class Japanese voice actors as well as great graphics that leave people in awe. Many refer to Genshin Impact as the Breath of the Waifu/Husbando because of an abundance of extremely attractive male and female characters. The game itself is an open-world RPG where you get to play as various characters. The game involves real-time hack-and-slash combat, and its complexity and reliability in Physics have quickly made it one of the best all-time RPGs.
Because the entire game can be played from start till the end without requiring any purchases – unless you get fed up that all of your friends have that danger bombing loli: Klee and you don't.
How to play Genshin Impact
Genshin Impact may seem like a game that requires a lot of juice to render properly, but its requirements are rather minuscule. As long as you have a GT 1030 – which is considerably weaker than the four-year-older GTX 660 – you should be good to go. You may need to upgrade your RAM to at least 8 GB to make sure that the game does not force close everything else. The game is available to download through genshin.mihoyo.com and you will need at least 16 GB of space to boot up the game. The game is entirely cross-playable between PC, iOS, and Android too.
Blade and Soul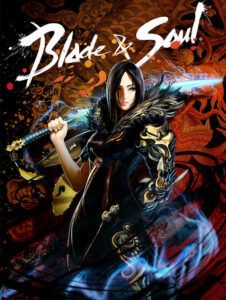 Blade and Soul have been the heart of hack-n-slash action RPGs for a few years now. Though originally a Korean release, the global version of BaS blade was released in 2016. Ever since then, the game has received a lot of updates as well as overhauls that still makes it one of the most attractive MMOs to play right now.
Since the game usually employs dungeon-style hack-n-slash combat where you battle through stages, the game has enough content right now to keep players going for years. The story itself is very good too. And if you are into dressing up your character, you can always spend NCoins to buy time-limited cosmetics. But if you are willing to grind, there is almost nothing except cosmetics that you can buy in the game.
How to play Blade and Soul
Because of how old the original Korean version is, Blade and Soul can technically work on PCs from a decade ago as well. We were able to boot up the game on an ancient GT 730 and even Intel's integrated Intel HD 620, so you should be good to go. Do note that the game is relatively large: you need around 25 GB of space to play this game.
Warframe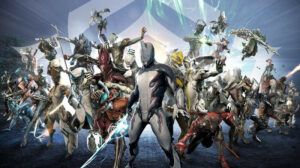 I wouldn't be a good journalist if I didn't mention Warframe on this list, would I be? Produced as a love child of Digital Extremes (DE), Warframe is a hack-and-slash lobby MMO featuring futuristic ninjas. With an absurd amount of warframes to hack your way through hundreds of enemies, Warframe is one of the most confusing and addicting games of all time. Better yet, because of the way the game works, you can grind through everything – even cosmetics. This means that anyone can have anything in the game if they are willing to drop in during special events and grind dozens of hours each week.
The best thing that makes people keep coming back to Warframe, and why it is so popular is its ever-so-growing list of missions. These expansion packs keep pushing the game's engine to its limits and reaching new heights. What originally started as a room-to-room hack-and-slash now has large-scale spaceship battles and an entire open-world to explore. As it stands right now, there are over 44 warframes (with 32 of them also having a Prime/Premium/Gold variant) and a wide array of unique primary, secondary, and melee weapons to never keep you from getting bored, Warframe is certainly a game that will not only slash away your precious time but also your mind.
Who knows, if you start right now, maybe you can find why everyone is in love with Space Mommy?
How to play Warframe
Warframe runs on almost any modern computer that can run basic 3D games. The developers note that a Core 2 Duo e6400 should be good enough to run the game, but we recommend getting a more modern i5-2500K to make sure that you don't stutter during the open-world sequences. The game can run on integrated Intel HD 3000 – the graphics card built-in on the i5-2500k, but we recommend that you upgrade to a dedicated GTX 660 or 750ti to get the best graphics and performance.
Conclusion
There are a lot of other honorable mentions on this guide, such as Dragon Nest, PlanetSide 2, Terra, Flyff, MapleStory, and RuneScape, and you should definitely check these games out when you get the time. Most of the mentioned games can run on Linux or are compatible with WINE as well.
If you have any other recommendations that could not make this list of  How to Play Free Games Online, please mention them in the comment section below.
Please follow and like us: