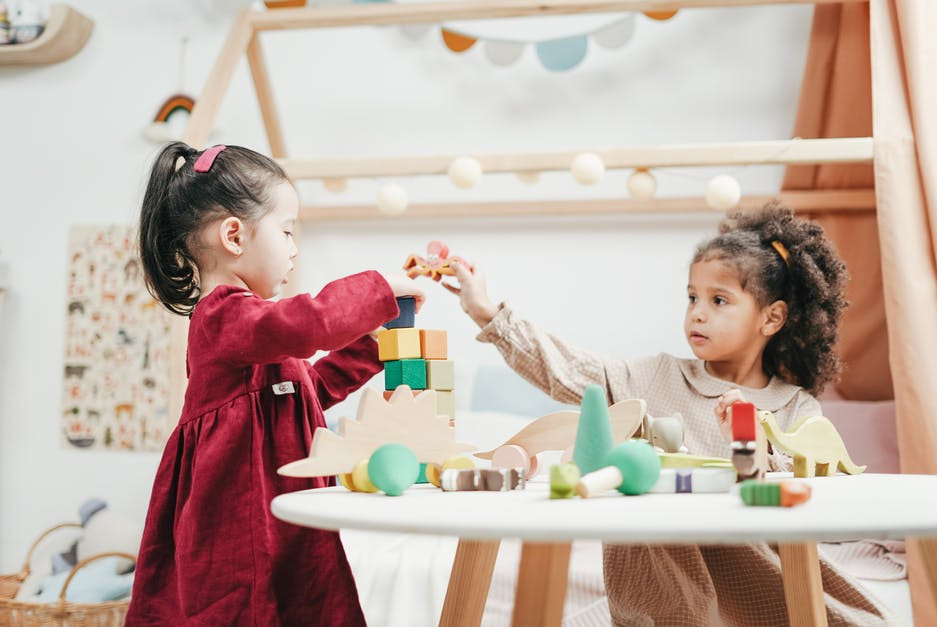 Toys are an integral and necessary part of your kid's mental and physical development is to let your kid come up with brand new ideas every day. When shopping for the best toys for girls age 3, you should consider buying according to your kid's educational goals and interests. In no time, they will be starting preschool. Therefore, you must prepare them, but, in a fun and interactive way.
When your little girl turns 3, she starts to become social and steps into the age groups where children learn something new almost every day. So, it is the best age to pick up on learning and social skills.
Many of the toys mentioned below do not only engage and keep your little girl busy but also provide a way for her to learn or pick up on new skills or habits.
We have selected the best toys for girls age 3, from a wide range of categories, including science, health education, basic math, etc.
Are you stuck in choosing a perfect gift for your little girl or 3-year old niece? Do not worry, keep moving forward and learn what are the best toys for girls age 3.
AMOSTING Button Art Color Matching Mosaic Pegboard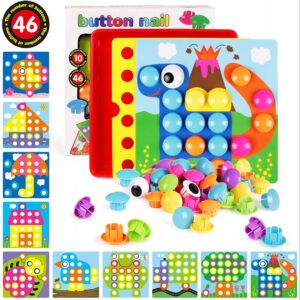 3-year old girls are as creative as they are energetic. They crave to explore the world and bring their ideas to life. This activity set is as cute as a pair of pony buttons on your little girl's jacket. The kid snaps the button-like yet smaller mushroom nails into various pictures and pattern cards.
All the girls have to do is match the pattern card's color to the button, attach them, and enjoy the fun pictures coming into life. Once they get the hang of how this toy works, they can create anything they want: go freestyle or stick to the pattern cards.
The activity set comes with 46 tiny colorful buttons, 10 pattern cards, and a pegboard. If you are worried about your kid losing all the buttons, do not! A storage tray also comes with the pack. Parents and product testers claim it to be a good toy to develop girls' motor skills and perfect for a rainy evening when they want a quieter environment.
However, the toy does not come with an instruction manual. So, you would need to teach your kid to play with it properly.
Little Tikes 3' Trampoline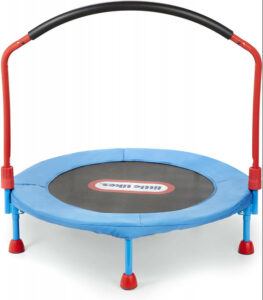 Want to see your little girl's energy? Comes with this toy and let her bounce all day long on this cute trampoline. Little Tikes 3' trampoline is just as your little girl's size.
The trampoline has a large surface for jumping and a sturdy handle on the top so that your kid can b balance while she leaps up and down. It is specifically designed for indoors so you can keep a watch on your child. However, it can only withstand 55 pounds.
Parents consider it as one of the best toys for girls age 3 as it gives their little girls some form of activity and a break from screen time. When playing on the streets is not possible, Little Tikes Trampoline helps you to keep your kid distracted and busy.
It is a great toy for girls who have great energy and are well-burners. But a few parents noted that the handlebar's foam gets ripped off after repeated and rough use. Needless to say, you can always repair it with household tape if you become one of the unfortunate parents.
Vtech LeapFrog Scoop And Learn Ice Cream Cart
This ice cream toy cart can take your kid's creativity to a whole new level. Let your girl scoop the imaginary yet scrumptious ice cream and treats while they learn about numbers and colors. Your child can enjoy the music and educational phrases while eating delicious treats from their very own cart.
The cart comes with cones, ice cream scoops, a magic scooper, toppings, and six order cards. Kids love preparing treats, taking orders, pushing the cart around the house, and eating ice cream with toppings, at the end.
The cart requires 3 AA batteries to operate, however, they come with the cart so, she can set her ice cream business without any delay.
Online product testers and reviewers have given the toys some extraordinary yet positive reviews. They say that toddlers spend hours on this cart and end up making funny and cute make-up scenarios.
Disney Princess Dress Up Trunk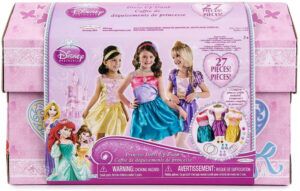 Not all little girls dream of becoming a barbie or a princess but some do, and there's nothing wrong with that. Let them live in the princess world with this dress-up trunk. The trunk includes 21 pieces ranging from crowns, jewelry, shoes, dresses, and everything. There is everything to turn your girl into Cinderella, Bella, or Snow White.
They can create a signature look of Disney princesses or go freestyle by matching various accessories with the dress.
This trunk is perfect for 3-year-olds who have just started watching Disney movies. All the pieces come in a beautiful yet magical trunk so that she can store her attires in a safe place after playing hours with them.
GBD Game Smartwatch By Best Tech
Here's a funky-looking smartwatch made just for your little girl. It has a wide range of functions that are not only educational but fun to explore. From a calendar and step counter to a calculator, your girls will be able to track everything with this smartwatch.
It has a touch screen through which your kid can access all the functions including a built-in camera to take fun pictures of herself and her friends. Afterward, she can edit the photo by adding colorful stickers and borders.
Parents nowadays vouch for toys that are full of tech and not noisy. GBD game smartwatch is a good example of trending toys for girls age 3. After all, parents deserve quiet evenings too.
Baby Alive Real As Can Be Baby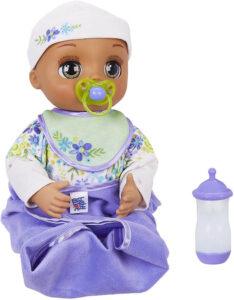 Many girls are fascinated with having a baby sister. If your kid whines about having another sibling, here is a toy for her. The baby alive collection has many dolls that look just like infants. This baby doll makes real-life sounds, moves, and even gives out real-life expressions, just like an infant. Your girl will love to feed her with the included bottle and the doll too, enjoys the feeding sessions as it makes interesting feeder-sucking noise.
When the word 'baby' is called, she will turn back, look at you and even babble in baby language. The toy has a complete baby set including a bib, the doll, a feeder, a pacifier, a removable outfit, and a comprehensive guide.
Parents have to be the first to figure out how the toy works and then, it's all up to the girl to feed the baby doll.
Melissa And Doug Nina Ballerina Magnetic Dress-Up Doll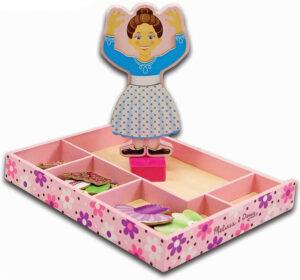 If your little girl is a dancer, she will love this toy for sure. This doll dress-up set is similar to a Chinese traditional wooden doll where you can dress her up countless times and even dance to the beat after various made-up scenarios.
The dress-up doll is made of wood with a magnetic dress. So, undressing and dressing her up will take less than 10 seconds for your little girl.
The set contains a range of accessories alongside 6 outfits. When it comes to the doll's outfits, there are 27 pieces including shoes, tiaras, shirts, pants, skirts, dresses, and gowns.
The wooden stand you will see after included is to let your kid spin the doll to the beat and let her flaunt the creations.
This toy is not as simple as parents think. While it looks like a simple dress-up task for the girl, there's an implicit challenge for your little girl to sort and match the accessories with the right outfit.
Crayola Color Bath Dropz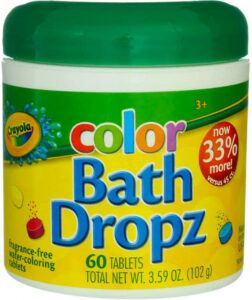 Does your little girl want to have fun, even while bathing? Crayola Color Bath Dropz is the solution. Bath times can be made best with this toy. The crayons light up but when they are in the water, it feels as if the water is lighting up- leaving your kid in wonder.
The set comes with 60 different glow-in-the-water crayons. Your kid can use one at a time or multiple ones for fun combinations. They are made with earth-friendly ingredients, so, your kid won't be harmed in any way.
Micro Kickboard Mini Original 3-Wheeled Scooter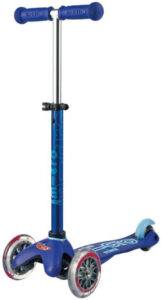 She's 3 and does not have a scooter? She must be jealous of the neighborhood boys riding scooters in style! If you have not decided already, now is the time to get her this scooter and work on her motor skills and foot balance.
If she's fond of playing outside with boys, she can ride the whole neighborhood in style with one of the best scooters for kids. However, you would have to buy her a new one once she crosses the age of 5.
Farmington Dollhouse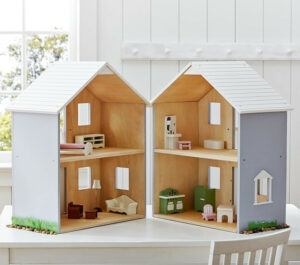 Every little girl wants to have a dollhouse in her toy collection. What's better for a kid to play pretend games in this beautiful dollhouse. It is pretty to look at and will keep her entertained for years to come.
Melissa And Doug Catch & Count Magnetic Fishing Rod Set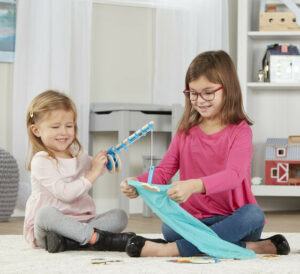 This great game toy by Melissa and Dough is fun and educational to play. It comes with 10 numbered fish and two fishing rods- all pieces magnetic. Kids can play alone or with friends to catch all the fish before the time runs out. However, the kid has to catch a fish for the number they have gotten in one go.
It is a great toy for building motor skills and learning numbers. When the kid is done, you can put all the pieces in the mesh bag and clean the mess.
Customers have great, positive reviews for this toy. However, the only complaint was regarding the length of the fishing rods. It is a hit among toys for girls age 3 and encourages kids to learn color recognition and counting.
Melissa And Doug Water Wow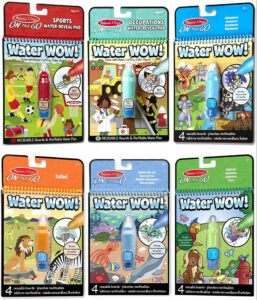 Planning a road trip with a toddler can be tough – you can never be fully prepared. However, this water activity pad is made specifically for road trips. The set includes 3 coloring books, each with a different theme (safari, ocean, and farm).
The biggest advantage of this toy is that it is mess-free, so, you will not have to worry about cleaning the car after a hectic trip. Instead of crayons or colors, the kid uses water-filled pens to bring the images to life. When the inks on the images disappear, they can start all over again to redouble the fun.
Parents love it and regard it as one of the best travel toys for girls age 3. It can easily be stashed in a diaper bag and handed to a toddler whenever she starts fussing.
Kinetic Sand Beach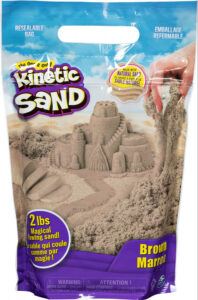 Kinetic sand is a cool way for girls to play without making a mess. This fun toy will help to polish your kid's motor skills, creative thinking, and sensory skills. They can make a castle out of the sand or play with it in a water table/sensory bin. In addition to that, your kid can also use cookie cutters to make different shapes out of the sand.
Kinetic sand is suitable for outdoor as well as indoor activities and parents love it because of its environmental-friendly nature.
Mickey Mouse Hot dog Dance Break Mickey Plush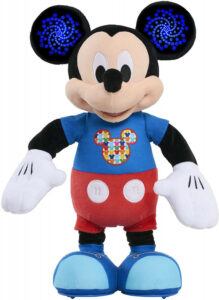 Get her dancing, moving, and grooving with this fun and engaging Mickey dancing doll. It plays on a green and red light. Whenever the light green switched back on, he starts the 'hot dog' dance. Toddlers who do not want to play a lot can enjoy watching little Mickey dance to the beat.
Conclusion
When deciding on a toy for your little girl, you must consider three factors: toy type, age appropriateness, and the toy's complexity. By keeping these in mind, we are sure you will get a great toy for your little princess.
Let me know in the comments section below how you liked this blog and what your opinion is about Best Fun Toys For Girls Age 3 below.
Please follow and like us: