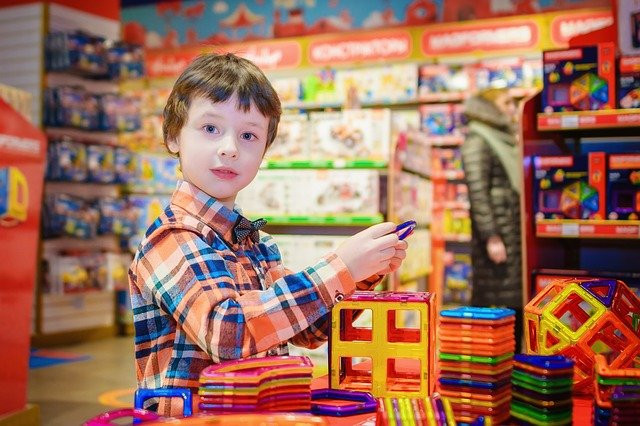 When boys cross the age of 4, they love to play with other kids. However, they need to have age-appropriate toys that involve and encourage friendly competition and role-play. Toys for boys age 4 help improve kids' educational and motor skills while improving their social interaction with kids as well as adults. No matter what your little boy is like, he needs toys whenever other kids are not around.
Parents know that this age falls within the age bracket where kids explore new things, become familiar with family members, learn to interact, socialize, and prepare for preschool. There is a huge range of toys for boys age 4, ranging from action figures to Lego. That's where parents get confused. They do not understand the age-appropriateness, complexity, and type of the toys- which results in them getting the wrong toys for their boys.
But we are here to help you with this tiring yet new task! A toy is worthless if your boy does not play with it. That's why we are going to help you find the best toys for boys age 4 that are fun and educational.
Take a look at our top picks for toys for boys age 4:
Flybar My First Foam Pogo Jumper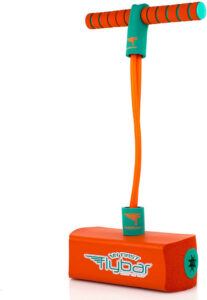 You must have not played with a jumper
when you were little but now when almost every toy is safe and age-appropriate, you can get it for your kid. Flybar has one of the best foam pogo jumpers that is not only fun but safe to play with.
No parent buys a toy without being concerned about safety but, this jumper is safe enough for your 4-year-old boy to jump and bounce all day long. This is the perfect toy to buy for your 4-year-old if he does not usually expend his energy in physical activities.
Flybar created this company keeping in mind the child's safety. Whenever the kid steps on it, the jumper makes a funny squeaky noise that will have your kid laughing.
It engages young boys in a fun physical activity. Moreover, it provides a way to strengthen your kid's upper body strength as the handles are attached to the bungee. It also teaches coordination and balance to little kids.
Your 4-year-old boy will love its bright colors at first sight.
Keep in mind its low jump span. Kids who expend much energy will wear the jumper out quicker than you can imagine. Given its price, the toy is excellent for a 4-year-old boy.
Hape Quadrilla Wooden Marble Run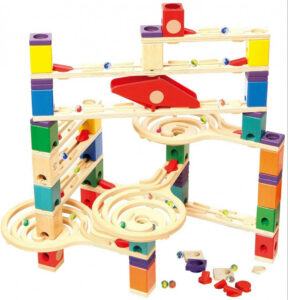 The Hape Quadrilla is one of the best wooden toys for boys age 4. Even you would want to take some time out and roll the marbles down the shoot while inventing new patterns for your kids.
This wooden toy set includes 134 pieces of marbles, made of wood. A kid can make limitless patterns using his imagination. The design of the toy is sturdy and can endure multiple throws on the ground. You can even put it in the attic and save it for your grand kids.
It is a fun and bright construction toy which will teach little kids, effect, and cause with efforts and patience. In short, it is one of the best toys for boys age 4 to invest in. Your kid will love to play with it when his friends are over for lunch.
However, adult supervision is necessary when the kids are playing this game. Sometimes, kids think of wooden marbles as delicious candy and therefore, put it in their mouths. Make sure to be there when your kid is playing alone or with his friends.
It is produced by a German toy company. So, the tag of Germany increases its price.
While most of the toys for boys age 4 are filled with buttons, cartoon characters, cards, screens, and action figures, this is an old-school, battery-free toy for every kid in the house.
Shifu Orboot: Augmented Reality-Based Globe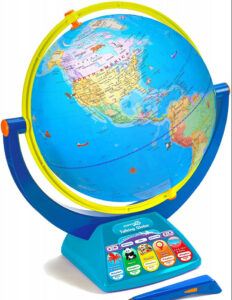 This toy will teach your kids about the era of the digital world around us, in a very fun way. It involves a lot of color play and colors. All you need is a smartphone or a tablet to scan the globe and your kid will learn interesting new facts about the world. The fun app (made specifically for kids) integrates with the toy globe and teaches your kid about animals, inventions, monuments using STEM education and fun pictures.
Even if it is not for the interesting facts, this toy will encourage your kid to step out of the house and explore new things. They get to learn interesting facts about countries and their cultures. It will assist your kid in developing an interest to travel around the globe. So, don't be shocked if your kid ends up traveling a lot in the future.
While it might be a great learning experience for your kid, running an app can be pretty frustrating for busy parents.
This toy serves as a great travel toy as it will help your kid learn about your destination's culture on the way.
STEM Toys Kit
The STEM building toy consisting of 163 pieces is great for child-parent bonding. One great advantage of this toy is that it comes with 75% more pieces than other similar toy brands. This can also be a con if you hate picking up toy pieces after your child is asleep.
But do not let the number of pieces stop you from buying this toy. Kids make a mess out of everything, so why not buy this toy from STEM learning?
We are sure your little boy will end up building animals, robots, cars, and even an airplane with this screw-together block-building toy. In addition to that, the bright colors of the pieces will entice young minds to play.
This toy set also includes a storage container, all the building parts, a screwdriver, and screws to help your child build things new to him and you.
It comes with 42 great designs, which will require the parents to read out the user manual to sort out each design. It is a great toy that encourages group activity and teaches your kid basic logic, preschool level mathematics skills and even engineering!

This new and improved 12 sport balance bike by Strike will improve your kid's cycling skills. The commercial for the toy shows a kid juggling softballs and balancing a plate while riding this bike. While every kid can't do that, they will definitely learn the art of balancing while riding a 2-wheeled bike.
The bike comes in multiple colors and is designed for 2 to 4-year-old kids. The tires are puncture-free and the design is light yet strong.
While the price is a bit high, it is a good investment provided it is better than a 3-wheeled scooter. Its lightweight and sturdy design give a kid a sense of power and control while they learn to balance.
But, a small fraction of parents complained about its construction. Many people do not recommend buying it for 5-year-old boys.
ThinkGizmos: Build Your Car Kit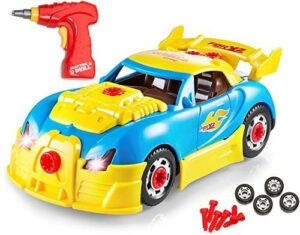 This car-themed toy is perfect for your little car-lover boy. Many boys love spinning wheels. It is a great car-themed building toy that can teach your kid the inner workings of a car and a scooter.
It includes 30 parts including a drill battery and engine battery. The car produces real-life car sounds and has working headlights and indicators.
It is a great STEM toy that encourages the kid to understand the working mechanism of a car at such a small age. Your kid won't have to deal with messy car bits or oil. Your little boy can take out a car's part in a snap and put it back again, without any mess.
Even though it's a great learning toy, the manufacturer has used cheap plastic in some pieces.
Dinosaur Train Track Toy Set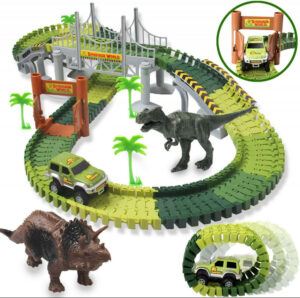 Your kid must have enjoyed the old, classical horror and thriller movie, Jurassic Park. To keep his interest in extinct creatures, you can get him the 142-piece Dinosaur train set with flexible tracks. He can either build a train track or demolish a track with a deadly beast like a dinosaur.
The tracks connect tightly and are very easy to assemble. In addition to that, it is a car plus dinosaur-themed- the best themes for the boys. The set includes tracks, cars, a bridge, a door, slopes, dinosaurs and even trees for extra effect.
This earthy-colored train set will grow your kid's imagination while improving his construction skills. This appealing toy will have your kid fall in love with prehistoric monsters.
The only downside of this toy is that the bridge that comes with the set is fragile.
Delta Children PAW Patrol Desk With
Storage Bin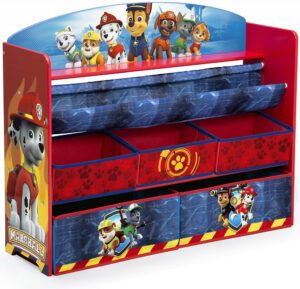 Your son might be gearing up to attend preschool. Therefore, it is important to practice how to be a good student and win a teacher's heart. There is no better toy to practice schooling than the Delta children PAW patrol desk. The comfortable, tiny seat is a perfect spot for your little boy to sit. Alongside, the seat underneath has additional storage so that your kid can store coloring books, pens and color pencils. The sporty seat will have him looking like he is attending school with style.
The chair can hold a weight of up to 50 lbs and is made of engineered wood to keep the cost down and to make the set all colorful.
The PAW control desk is scratch-resistant and comes with a removable holder for crayons. Moreover, it is safe for your child as this toy set complies with the safety standards from CPSC.
However, there are some downfalls such as necessary assembly, and a steep price.
Toy Truck Transporter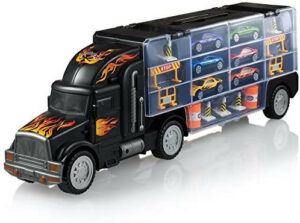 If your boy is a fan of big vehicle toys, why not get him this amazing toy truck transporter? If your little boy has a car collection, this is a perfect toy for him to store his cars and transport them from point A to point B.
It is not just a storage box. It has the shape of a big transporter truck that looks like it is transporting all the fancy cars to a car race. The storage compartment detaches with the toy's front easily, so, your son can play with the truck.
The set includes cones, road signs, construction signs, and 6 racing cars. The truck's storage compartment includes 28 slots for cars. The slots are made of clear plastic for transparency.
The black, flame-themed design will have your kid falling in love with racing cars.
The only downfall of the toy is that the flames are just stickers which many boys will pull off.
Lego Duplo Town Truck And Tracked
Excavator Set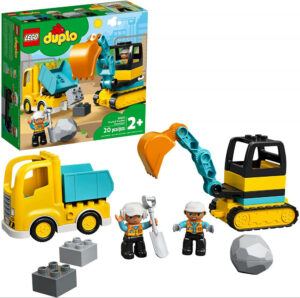 The Lego Town truck and tracked excavator set fulfills your little boy's wish to pull toy pieces and build all over again. This is one of the best Lego sets for a boy who loves to build and tear toys down but is not ready for tiny building blocks (for safety reasons).
With 2 construction workers, bonus blocks, a dump truck, and an excavator, this toy set will keep your little man busy.
The tractors and trucks actually work and move. The kid learns to be patient and follow instructions.
For 26 pieces in one set, it has great value for money. However, if your child has experience in building from tiny blocks, he will eventually get bored with it.

This wooden set will teach your kid to weave lace into letters and animals. This lace set will help your little man to tie the laces up himself while learning all alphabets.
The toy teaches the kid about animals and letters while improving their hand-eye coordination.
The only downside is that it is expensive and the storage box does not come with a lid.
Conclusion
Innovative and thought toys are important to improve your little boy's motor and social skills. The above-mentioned toys will definitely keep him entertained for hours.
Let me know in the comments section below how you liked this blog and what your opinion is about Best Toys For Boys Age 4 below.
Please follow and like us: