Cowabunga! Did that phrase arouse a bit of nostalgia in your mind? Well, it did for me. Teenage Mutant Ninja Turtles were something I spent my entire childhood with. Their merch, including their lunch boxes, Teenage Mutant Ninja Turtle toys, t-shirts, and many other things, I obsessed over.
Though the ninja turtle movies might not be as common among children these days, the teenage mutant ninja turtle toys have always been loved by children. Their weapons and stuffed toys are in demand all over the world. The main reason is the addition of new avatars over time. They are constantly being added to the collection. Not only children but also adults are fans of teenage mutant ninja turtle toys.
How They Came Into Being A Frenzy Among People
Now we know teenage mutant ninja turtle toys are quite common, and it seems like they always have been. It is certainly not the case. There was a time when nobody knew about them, and the rage for them was not built overnight. Let us look at their growth and how they became what they are today.
The teenage mutant ninja turtles first came to sight through a role-playing game. The game was a success because there were very few games of this type at the time. This was a new addition to it, and the public liked its concept. Later, a company got a license from Teenage Mutant Ninja Turtles to make its toys, but other companies in this regard did not support them. They thought that it was good as far as a game was concerned, but they might not do as well0 when made into toys.
After some time, a company named playmate toys got a license from Teenage Mutant Ninja Turtles and started with making toys. In the years afterward, the concept was taken up by other companies as well, and by the end of 1988, Teenage Mutant Ninja Turtle toys had become quite a frenzy. Their toys were made and sold in bulk. The toy line was more famous than the game which started it.
What Are The Teenage Mutant Ninja Turtles?
The first action figures were made on the previously made concept of mirage comics. They had the same bulging eyes, veins on the face, and three joints in the limbs with a weapon in hand. Other than that, there were seven main articulation points, which were head and limbs all combined. They had a bio card on the back of the blister package, which consisted of the secret weapon for each character. The secret weapon is specific to each ninja turtle. The ninja turtles made in the first lot were Leonardo, Donatello, Raphael, Michelangelo, Splinter, April O'Neil, Shredder, Bebop, Rock steady, and a Foot Soldier.
As time passed, each year, additions were added to them. At first, there was the addition of plush dolls to this set of action figures, and later on, as the story developed, characters were added to it.
The best ninja turtle toys as those which have lasted the test of time and are Rubies ninja turtle Raphael costume, Nickelodeon ninja turtle pillow sets, ninja turtle tank vehicle, drawing ninja turtle desk, ninja turtle Leonardo figure, ninja turtle mega blocks, ninja turtle play hut, ninja turtle playbook, and ninja turtle Michelangelo playset. These are but a few of the toys kids prefer these days, and they often sell out. However, the other toys are no less. Whatever you choose is entirely based upon your preferences.
Accessories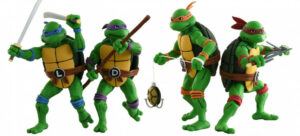 More than the ninja turtle action figures, it is their accessories that were liked most favored. The playmate toys manufacture went over the top with making accessories and vehicles. They introduced vehicles that were not even originally in the movies. This was the reason that people started enjoying it. They made very innovative choices of material and gadgets they produced. They made the weapons out of a toilet lid, pizza thrower, bubble bomber, and all kinds of weird things, which was not the original idea, but the public enjoyed it. The most famous vehicles and gadgets are the Turtle Communicator, Raphael's Spy goggles, ninja turtle mask, plastic weapons, radioactive slime, and Leo's Sewer Force Sword. Other than these, the accessories keep coming with each character and its canister of Ooze for the kids to enjoy.
Different Themes 0f Teenage Mutant Ninja Turtles Toys
There have been periods of different themes and reincarnations of the Teenage Mutant Ninja Turtles toys. Some themes over the years are:
In the 1990s, they were basic figures, and each character was given a basic theme as it was in the game.
In 1991 vibrant musical gimmicks and different forms of the military were the themes. A few characters were also introduced.
The theme for 1992 ninja turtle toys was wild, wacky west, and cave turtles.
The cave turtle was also followed in 1993, along with a newer theme of turtle trolls.
In 1994 were universal studios monsters and star trek.
The 1995 toys were all based on adventuring and Jim Lee's comics theme.
The longest-lasting of all were mutant masters based on anime that was launched in 1997.
There was a halt in themed Teenage Mutant Ninja Turtle toys in the later years, but they were launched and are still being launched each year.
Teenage Mutant Ninja Turtles Movies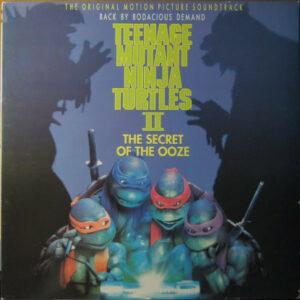 In 1991 a Teenage Mutant Ninja Turtle film was launched. It was Teenage Mutant Ninja Turtles II: The Secret of the Ooze. It had more articulatory points for the action heroes than the previous one. This added modifications to the toys that were already made. Later, another movie known as Toon turtles was launched in 1992. In it, the Teenage Mutant Ninja Turtles had a costume with a glittery appearance. The previous ones were more warriors-like, but now they were given some friendly characteristics.
The last of the lot before the 2000s was launched in1993. It had a Samurai and warrior theme. Many movie stars much appreciated it at that time. The movie was Giant Movie iii.
Another big thing that happened before the 2000s was the launch of mini mutants by playmate toys. In that period, they launched a mini version of each Teenage Mutant Ninja Turtles toy.
A Low Time For Them
1998 was apparently not the year for mutant ninja turtles. They were their low times. The main reason was there was not anything new at that time. Other toys and their themed merch had taken over the market of ninja turtles. The producers were putting in efforts to take it back, but those efforts were not doing well.
2003 To 2012: A Spell of Highs and Lows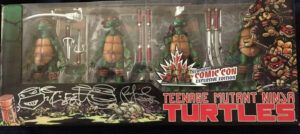 Teenage Mutant Ninja Turtle toys came back into the action after 2003. It was in that year a series of other ninja turtle cartons was launched. It brought back the earlier rage of 1988. The show lasted till 2006 with a lot of new modifications and innovations to the characters, vehicles, gadgets, and heroic characters.
The year 2007 and 2008 was more about the comics. In September 2007, the first NECA comic was launched. It has a jam-packed show in New York comic con 2008. The new toys launched that year had a different but great new audience.
2009 was celebrated as the 25th anniversary of mutant ninja turtles. The playmates' launched their special collection of ninja turtle toys this year. There was a special mention of Teenage Mutant Ninja Turtle's toys in the mirage comics and the Nintendo magazine.
2012 Nickelodeon Show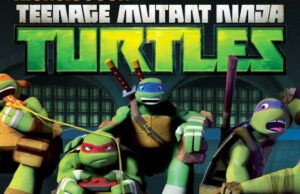 In 2012 playmates' had another series of Teenage mutant ninja turtle toys. They were all fresh and new, so Nickelodeon took to this opportunity and got the license. Another TV show was launched this year. The audience for it was now millennial, and all the toy characters were made, keeping them in mind. So, it was a TV show. The TV show came in ten waves with the launch of new characters in each wave. The show lasted till 2015. All the characters were inspired by playmates' series of Teenage Mutant Ninja Turtle toys launched every year and throughout the course. This merch and toys are the ones most common and still in use by the children.
The Turtle Van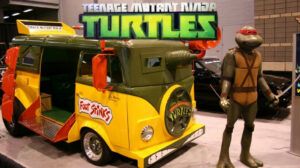 The turtle van, which is considered the most famous of them all, was launched in 2014, and it became all the rage through the release of the 2014 movie.
Conclusion
Teenage Mutant Ninja Turtle toys have always been a favorite of children, no matter if it is 2021 or 20 years ago. Each year new toys are launched with new features, and we hope they keep this legacy for many years to come.
In the comments section below, let me know what you think of Teenage Mutant Ninja Turtle Toys and how you liked the article.
Please follow and like us: